Making life-changing professional decisions is not the most prudent thing to do in a crisis. But, for physicians who find themselves in the middle of one of the world's deadliest pandemics, an adjustment in career trajectory may just be exactly what the doctor ordered.
The pandemic has left a lot of physicians burnt out. But, unfortunately, there's only so much that noise barrages can do to uplift one's spirit when you've been on a 24-hour COVID shift.
And when health workers see their colleagues falling to the very illness that they're fighting against day after day, it's not a wonder that 3 in 10 health workers are contemplating a career change.
A lot of healthcare practitioners have seen this coming. The fee-for-service model is deeply flawed in a way that can easily overwhelm doctors during health crises such as COVID-19. As a result, many medical practitioners are either thinking of or are already transitioning to other professions.
However, there is an option that is slowly gaining steam among physicians – Direct Primary Care. It's an alternate payment model in which patients pay doctors monthly instead of on a per-visit basis. The result is a flexible practice with growing public interest, all the while maintaining financial stability.
DPC and Concierge Practices Suffered Less Pandemic-Related Financial Volatility
Direct Primary Care doctors are not pressured to see many patients to make sure that their reimbursements don't diminish at the end of each month. This is because their monthly income is contingent on the number of patients signed on to their practice instead of waiting on reimbursements from health insurance companies.
Part of the benefit of running a practice not reliant on insurance is that DPC doctors can charge whatever rate they deem appropriate for their market. This allows them to earn as much as their market is willing to pay.
For many DPC doctors, this results in fewer patients they need to see each day while still maintaining a level of income that they're comfortable with. In addition, shifting to DPC practice can mean more time for physicians to provide quality care for their patients.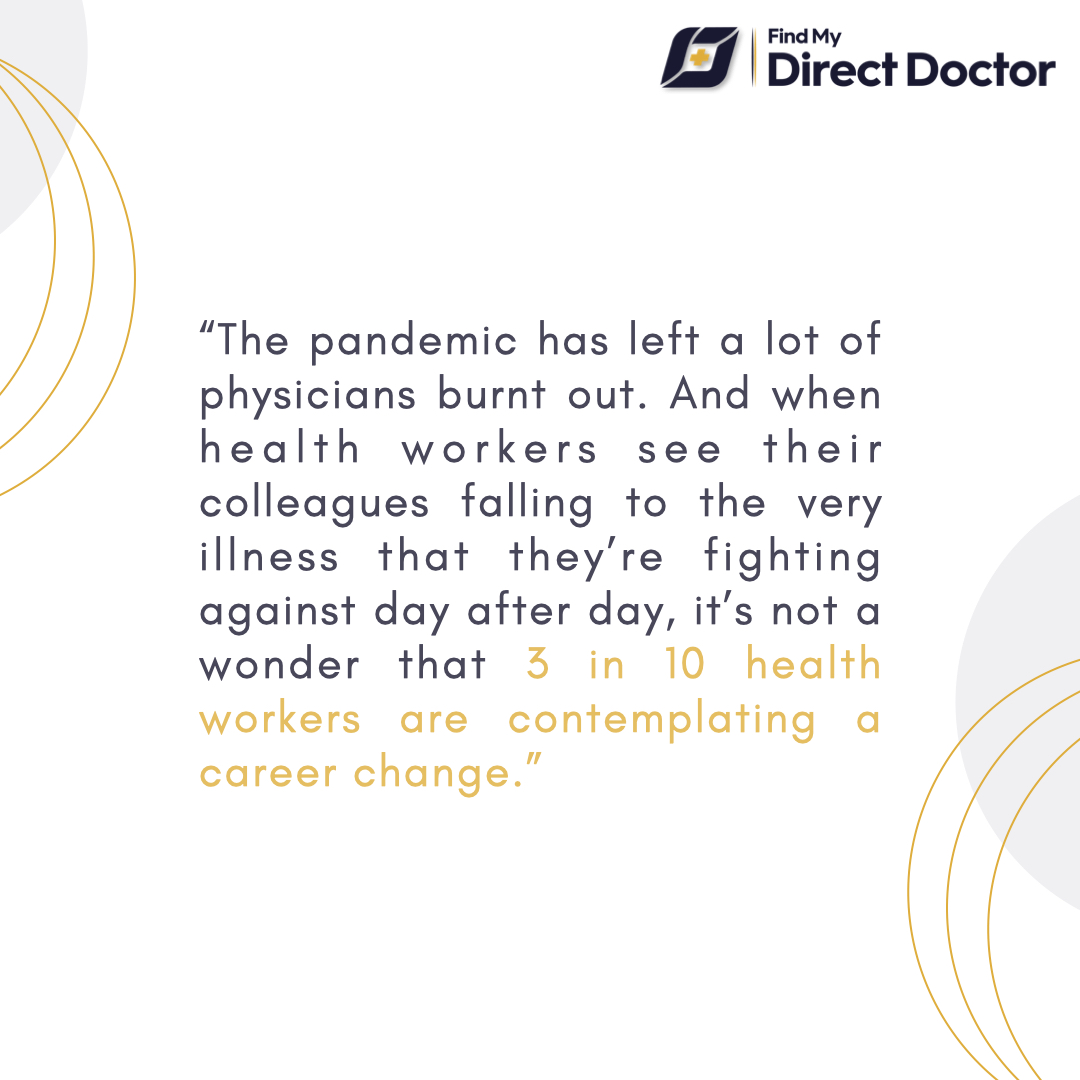 Another overlooked benefit of transitioning to a DPC practice is that it would allow for non-traditional consultation modes. For example, DPC doctors are the first ones to provide medical advice over online video conferences.
They're also free to use other modes of communications such as calls, texts, and even email queries. These benefits allowed DPC practices to keep providing key services even during the worst of the lockdowns.
Other primary care practices were not so lucky. The rigorous administrative requirements of insurance-based practices prevented them from using other modes of consultation. And when lockdowns and pandemic measures began, it effectively cut off visits which caused a huge dent in their income.
Better Equipped to Address the Complexities of COVID-19
In DPC practices, physicians are free to provide treatment to their patients without the regulatory burden from insurance companies. This allows them to pivot quickly and try out new techniques and procedures if and when the need arises.
In a pandemic, this remaining nimble is an extremely important advantage that can spell the difference between success and failure is often experimental treatment procedures.
DPC practices are the first to offer in-home COVID-19 care for mild to moderate cases, for starters. In addition, some concierge-level services were even able to provide life-saving in-home care for more severe cases of COVID.
When the pandemic started, DPC and concierge practices were also among the first private medical institutions to procure home test kits for their members and patients once it was made available for private purchase. It was a crucial advantage for DPC members as they were able to skirt the pain points of getting tested in the early days of the pandemic.
But it's not only in the treatment phase that DPC is better equipped than the fee-for-service model. The flexible mode of consultation also made DPC physicians uniquely situated to dispel misinformation surrounding the pandemic.
The fake news about the nature of COVID-19 has been just as dangerous as the virus itself. Large swathes of people, for example, believed that the pandemic was a hoax. Most recently, there has been a lot of misinformation about vaccines causing widespread hesitancy.
Since DPC and concierge physicians are just one call or text away, they can help their patients make informed opinions about COVID-related decisions. This simple availability is already a huge step towards combating misinformation.
Growing Public Awareness
DPC practices remained operational because they were nimble. They were able to procure critical home testing kits for their patients and adapt to the virus's developing facts. So, while public interest in DPC was already growing before the pandemic, it helped in making it even more popular.
This growth in popularity could give doctors who are interested in DPC a leg up in starting their private practice. In a way, the pandemic has served as a wake-up call to healthcare professionals about the inadequacies of fee-for-service models. But, more importantly, it also serves as a glowing review of DPC practices as the future of the industry.
Do you want to start and thrive at your own Direct Primary Care Practice? Then, list your dpc practice for free and maximize your online reach, transforming health care shoppers into patients.